Raman Kumar
Research Associate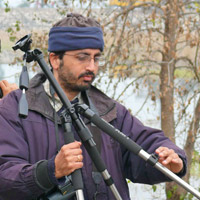 Research interests
Raman Kumar works on bird community ecology, and his research has examined impacts of forest management and forest degradation due to anthropogenic activities on bird communities. Raman Kumar coordinates MigrantWatch, a pan-India citizen science programme to monitor bird migration patterns. Raman is working to set up a long-term ecological monitoring for forest birds in the Western Himalayas. He is involved in planning and development of interpretation and awareness programmes in the Western Himalayan region.
Academic background
Ph.D. in 2011 from Centre for Wildlife Studies, Bangalore through Manipal University, Manipal
M.Sc. Foresty in 2001. Forest Research Institute University, Dehradun.
B.Sc. Physics & Geology in 1996. HNB Garhwal University at DBS (PG) College, Dehradun.
Activities at NSI
Raman Kumar is currently the Director of NSI. Raman brings in his experience with working on ecological research in the Western Himalayas and has contributed to:
Long-term bird monitoring in urban regions of Delhi and Dehradun valley
Training rural youth in bird identification to promote eco-tourism in collaboration with Uttarakhand Forest Department
Designing interpretation products for NSI's Art for Science programme
Producing outreach material for Garbage Impact Research and Awareness programme
Developing research programs and proposals to examine the impact of human activities on bird communities
Experience
Researched impact of forest management on woodpeckers in the sal forests of Uttarakhand for his PhD
Surveyed the globally vulnerable Great Slaty Woodpecker in the sub-Himalayan forests
Researched impacts of anthropogenic disturbance on bird communities in Sariska
Currently associated with two citizen science projects - MigrantWatch and SeasonWatch - at the National Centre for Biological Sciences, Bangalore
Publications
Contact information
raman@naturescienceinitiative.org
Alternative e-mail: cyornis@gmail.com
Related links