Rohit Chakravarty
Project Fellow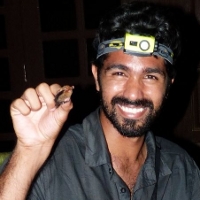 Research interests
Rohit's proximate interests lie in understanding the natural history of Indian bats and in creating call libraries to facilitate their research and monitoring. His ultimate research interests with bats are broad and fall into the categories of movement ecology, biogeography and molecular ecology. Rohit is also deeply interested in generating public awareness and in building capacity among students to study bats. Rohit is also a keen birdwatcher by hobby.
Academic background
MSc Wildlife Biology & Conservation (2014), National Centre for Biological Sciences, Bangalore, India.
BSc Zoology-Botany, St. Xavier's College (2012), Mumbai University, Mumbai, India.
Activities at NSI
Conducting a survey of bats in Uttarakhand with the aim to record their ultrasonic echolocation calls to create a call library to enable further research and monitoring of bats.

Publications
Experience
Lead Assessor in the IUCN reassessment of three threatened species of Indian bats: Kolar Leaf-nosed Bat (Hipposideros hypophyllus), Andaman Horseshoe Bat (Rhinolophus cognatus) and Peter's Tube-nosed Bat (Harpiola grisea).
Project Associate with Nature Conservation Foundation (NCF) popularize listing and monitoring of birds by conducting workshops for birding groups in various cities.
Studied the effect of roosting specialization and dispersal ability in determining genetic structure of four species of bats in the Andaman Islands.
Volunteered on field projects on large mammals population estimation and conflict surveys with Centre for Wildlife Studies and Wildlife Trust of India.
Contact information
rohit.chakravarty77@gmail.com

Related links