Misha Bansal
Project Fellow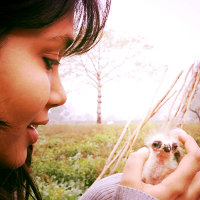 Research interests
Misha is working towards monitoring restored habitats in the Aravallis in Delhi. She is establishing the Delhi Bird Monitoring Project, encouraging birdwatchers to use eBird, by conducting workshops and bird ID sessions. She also aims to contribute to conservation by changing sensibilities and bringing urban hearts closer to nature.
Academic background
MSc (Life Sciences) in 2017 from Jawaharlal Nehru University, New Delhi, India.
BSc (Bio-Chemistry) in 2015 from Sri Venkateswara College, Delhi University, India.
Activities at NSI
Misha is closely involved establishing a long term ecological monitoring program at the Aravalli Biodiversity park (ABP) in Gurugram, Haryana. She is surveying ABP and other areas in Delhi-NCR, to study how effectual they have been in harbouring a healthy bird diversity.

Misha worked to monitor hornbills in Uttarakhand vis-a-vis nesting of the Indian Grey Hornbill in rural and urban landscapes of Dehradun and Laldhang respectively.
Publications
Experience
Evaluated the success of ecological restoration at the Aravalli Biodiversity park in Gurugram, Haryana. Using birds as indicators, compared the restored site to a Prosopis juliflora invaded forest to highlight the detrimental effects of invasions and advantages of restoration.
Studied the nesting, mating and foraging behaviour of Black Kites (Milvus migrans) in Delhi as a part of the "Tigers of the Sky" project (undertaken by Nishant Kumar, Wildlife Institute of India).



Contact information
misha@naturescienceinitiative.org
Alternative e-mail: mishabansal94@yahoo.com
Related links