Rajesh Bhatt
Programme Associate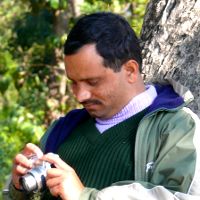 Conservation interests
Rajesh Bhatt has spearheaded nature education and nature guide training programmes for nearly two decades in Uttarakhand. His main interest has been to inculcate the spirit of conservation in the public at large, particularly children.
Academic background
MA (Economics) from Kumaon University, India.
BA from Kumaon University, India.
Activities at NSI
At NSI Rajesh heads the Hornbills-and-Figs Project. As part of this he engages with children in rural and urban schools to communicate the importance of ecological relationships that sustain life.

He is closely involved in developing the Doon Valley Bird Circuit.
Contact information
rajeshbhatt@naturescienceinitiative.org
Alternative e-mail: rajeshbhatt0@rediffmail.com
Experience
Founder of the children's volunteer group 'Rainbow Friends of Nature and Environment' in Ramnagar.
Among the first trained naturalists in Uttarakhand.
Visiting Faculty at Forest Staff Training Institute, Kalagarh to train frontline staff in field ecology. surveys of dam impact zones for development of mitigatory measures.
Field expert and collaborator in ecological research projects examining birds and butterflies in agricultural landscapes (with Dr Malvika Onial), and woodpeckers in sal forests (with Dr Raman Kumar).
Lead trainer at community-based ecotourism initiative at Pawalgarh Conservation Reserve and other sites in Kumaon.